From the beginning our story has been about working together to build relationships.
Our story begins in the 60's when Northern Britain was a very different landscape to what it is now.
Small Medium sized enterprises in the North were just beginning to take shape. Restaurants and Takeaways were starting out in business.
Newsagents were seeing a huge boom.
The age of convenience was upon us – and that meant businesses needed good accountants.
Our business was formed in 1979 with Asghar Chaudhry, Arshad Chaudhry, and Rezaul Huque – three aspiring and incredibly hardworking individuals out to change the face of accountancy in Leeds.
In those days, it was rare for accountants from an asian background to be thinking about going into a professional practice, let alone actually do it.
But we broke the mould.
Travelling 60 miles for 60 pounds became the norm.
Coming home late night having met some new clients in all parts of the UK and forming relationships was our strength.
Going the extra bit wasn't enough.
We prided ourselves on doing far beyond the expectations of our clients. Wherever it was needed, whenever it was needed.
It was hard work the likes of which we haven't seen for a long time.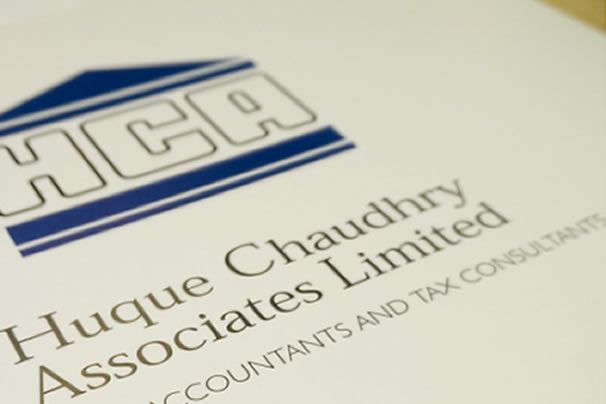 To become the largest independent accountancy practice in Yorkshire (run by an ethnic minority) took a lot of hard work.
From the outset, we approached business from a really unique angle.
While most businesses were out to make vast sums of money, our aim was always to feed our families fairly, and give amazing service and provide free friendly advice.
So what did this amazing service include?
Firstly, it was about pulling out all the stops.
"We had to make sure work was complete – come what may. That was our philosophy."
– Late Arshad Chaudhry
Day or night, staying late, till 4am to ensure clients accounts were done on time and correctly.
This was the way we had been brought up.
To do things right and do it first time and give the service that we would expect to receive from others.
It was ensuring our clients work was completed with utmost accuracy.
It was maintaining a close relationship with our clients that would stand the test of time – trusting us personally on affairs even outside their business.
You can not separate the person from the business!
That's the kind of accountancy we set out to build and we are still working with that ethos.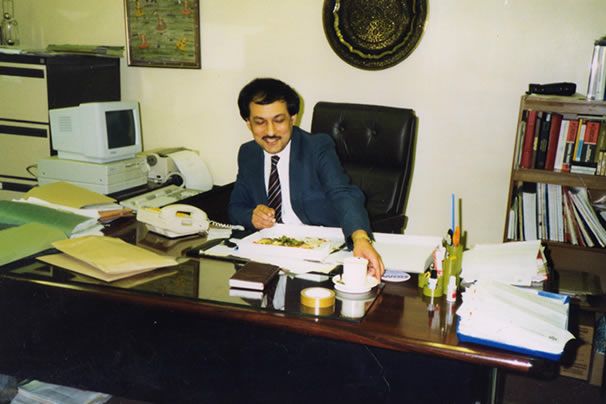 1996: The Late Arshad Chaudhry. One of the three founders of Huque Chaudhry Associates
We believe the whole notion of accountancy should be fundamentally different.
We want to be a part of your business – why? It's simple.
Your success is our success.
When we hear that you have made your business work as a result of your hard work and our advice and guidance it makes us feel really proud.
Yes, we will complete all aspects of the number crunching on your behalf, and yes you can leave your papers with us in utmost confidence.
But you can get that with any accountants.
What you won't get is a personal connection with a warmth and understanding that only a family business running for three decades can provide.
You'll also get great addition help such as setting up your business and working out ways to increase turnover and avoid frustration.
When you start a business, you start a long term relationship with us that we will nurture.
Come and have a free initial consultation with us and we'll find out the best ways to help you.
We'll see how we can not only save you money on corporation tax and reduce it where possible
We'll also see the health of the VAT aspect of your business and see if you need help with bookkeeping.
Not only that, we but we are quite forward thinking at Huque Chaudhry – and when we see problems in your business we'll help you fix them.
Our top tips for success…
There are some overriding things we have learned in our time in business.
These are some of the characteristics you need in business to excel.
We want to help your business succeed at whatever stage you are at.
We can give you fantastic business support and coaching as well as ensuring correct business setup
If you are more established, business strategy and business processes improvement will be more suitable.
If you are ready to find an accountant, call us to make an appointment on 0113 2486019 or visit our offices and ask for Asghar Chaudhry.
Our team is really friendly and happy to help, we would love to hear from you.
Hard work and dedication
"We built our business with hard work and dedication to our clients. We aim to give you a top class service to every client whatever your business."
– Asghar Chaudhry, Senior Partner