Finding new customers online is one of the most difficult things you can do in business, but it is increasingly becoming a necessity. The consequences are clear – fail in your online interaction and you are leaving money on the table and leaving profits behind. We've been in business a long time, and over the years we've had to change up our marketing game to include online media for marketing as well as informing clients of the best ways to go with marketing.
(This is where many people get surprised, that we even offer marketing advice being accountants!)
So, how do we increase our profits and get more customers?
Setting up the need
First of all we have to look at our market and we see what kinds of customers are we going to need. For example, if we are car garage and want to increase the numbers of people coming to our garage we need to look very carefully at the types of customers that we want to attract.
So in this instance we would be looking at customers who are in need of car repairs, MOT, car servicing, and or car parts. This would be spread across all the various manufacturers makes, and models, of cars available. We need to make sure that customers who are interested in the services are not time wasters, so we need to focus our marketing efforts in the right places.
Where do people hang out?
The next port of call is to figure out where people are congregating online who want our services. There are a number of ways to figure this out. With the advent of the Internet it is becoming increasingly easy to interact with potential customers on social media channels, online forums, podcasts, videos and many other online mediums.
The easiest way is to investigate each of these mediums and see what comments people are making about that particular service. For example a car garage which has very clever marketing will be creating YouTube videos explaining how to do certain elements of car repair. The sheer volume of categories and topics that can be talked about provides a never-ending stream of content that your potential customers can interact with.
Go to Google Plus (https://plus.google.com) and type in "car repair" into the search bar. You'll see a number of businesses offering car repair services. Click one of the car repairers there and see what kinds of posts are being created. This will get your creative juices flowing and make you understand how to interact with potential customers.
We can also use online message forums and message boards to understand what problems customers are facing. So in our example of the car garage, a simple Google search for car repair forum will bring up a list of car repair websites where potential customers can discuss their car repair problems. If we join these message forums we now have a new opportunity to provide links to our website, YouTube channel, Facebook page, or any other online medium that we want to promote, alongside this we will be providing expert knowledge since we are experts in our industry and potential customers will begin to trust us. This also has the added benefit of giving a whole new marketing channel and allowing new customers to find out about our business and the way we operate.
You can also do the same in Facebook, but we will cover that in a later blogpost in more detail.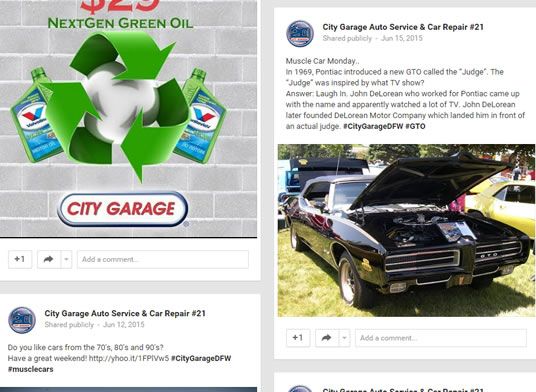 What do they want to know?
On the Internet it is very easy to find out what kinds of problems potential customers are facing when interacting with your product or service. For example in our car repair example customers will want to know how to fix certain aspects of their car.
This can potentially save them money and will allow them increase trust of your expertise and give them reassurance that you are the experts in your field. This has a positive impact on customers who will eventually interact with your product and may even give you a call stop.
They need to know that you know the upcoming trends, innovations and new products are available in the market.
They also want to know that you are the product expert for products on the market and that you will be able to provide expert knowledge in these products. Take a look at the example on the left, this car repair company is based in Australia and clearly shows their passion for cars, engines, new and vintage models, as well as expert knowledge, on all aspects of motoring.
Once you have a following online and people begin to interact with you online, you will quickly be able to gauge the kinds of services that you need to offer based on their questions.
A great website for understanding more about this is Quora.com. This website allows users to ask questions about any particular industry and users will provide answers. This gives you great ideas for posting items online, as well as writing blog posts, and creating content for your YouTube videos, and answering questions of potential customers.
Another great way to be a product expert is to tell potential customers about the pitfalls ahead for a particular product they may have purchased, or a service that they may have taken on, or indeed something there using that may potentially have problems later on.
You can then give expert guidance and advice on the best way to resolve these problems using your products and services.
Posting the right content
You can do some of this yourself, such as creating videos on your smart phone about your day-to-day working activities. In the example of car garage this is perfect since you will be able to tell customers about life problems that customers who are coming into your garage are facing. Elance.com and look for content writers and graphic designers who will be able to create your content for a fixed rate.
You can also post content on Facebook and Google Plus, but we recommend hiring a graphic designer for this as it is a time consuming process.
How to convert?
Customers like to know that you are having a conversation with them rather than selling them something. This means that you provide expert guidance on any particular problem they may have, and you are the supplier of choice for their particular problem.
Once you are comfortable having a conversation with your clients, you will be able to tell them about particular services that are available to them. There will be more inclined to purchase from you knowing that you have had a long-term relationship with them online.
The key here is not to sell. The real value is in providing guidance and support and free advice on any aspect of the problem the customer is facing. This leads to an increase in reassurance in the customers eyes that you are not trying to simply squeeze money out of them but are really trying to add value.
Readers will become customers and longer term customers will become referrers.
If you need business advice contact us on 01132486019 and we can help.